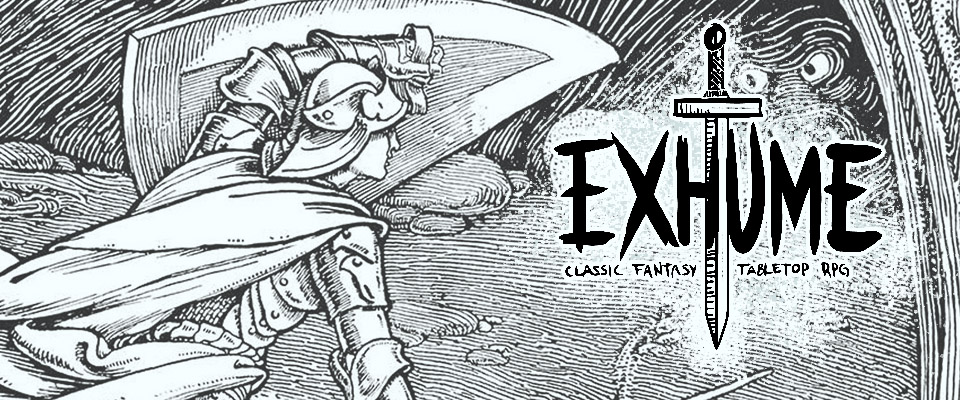 EXHUME │ MICRO FANTASY RPG

EXHUME MICRO TABLETOP RPG
EXHUME it's a simple and clean d6 classic fantasy micro RPG. It was design thinking about new players in the Tabletop roleplaying hobby. But also my attempt to bring some "New School Revolution" goodness to the gaming table.

RULES LIGHT RPG
Some of my reasons to create EXHUME:
I wanted to have a small game system that I can carry around and play on the spot using a couple of d6's.
A simple enough gaming system to keep recurring new members for my gaming group.
Fast character creating, but like, really fast.
An elf game that not only has combat rules.
A ruleset that was super adaptable to most adventures.
A game system where you can create abilities, spells and rules fast and easy.
Something that was cheap enough to print on my house, so I can put it in a bag with some d6's and leave it on the street for someone to find.
Exhume it's inspire by the awesome work of; Yochai Gal, Nate Treme, David Black, Johan Nohr, Chris McDowall, Luka Rejec and many more.
Using public domain art from: Rhead, George Woolliscroft
Written, Layout, Design and everything else by: Irvin Morales from Role Per Second.
And launched in this awesome Fanzine from The Death Die Club.
Download
Click download now to get access to the following files:
Exhume_ENG_2.2b_Zine_Print_Letter.pdf
499 kB
Exhume2.2b_ENG_Letter.pdf
515 kB
CharacterSheets_Print_ENG_2.0.pdf
759 kB