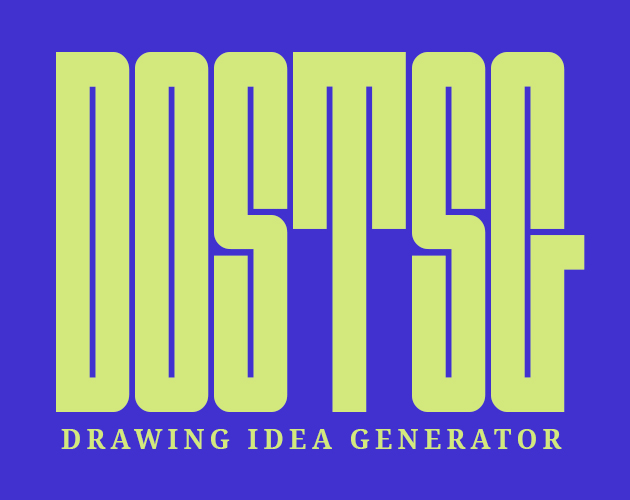 Drawing Original Stuff From Tabletop Games
DRAWING ORIGINAL STUFF FROM TABLETOP GAMES
DOSTFG It's a prototype of a drawing idea generator that was born at the little drawing meetings I got with some friends.
The main idea it's to roll a few dice and generate some drawing ideas for your roleplaying tabletop games, or even other tabletop games.
Right now it's only a prototype, but I will probably develop it over time with any every feedback I get.
ABOUT IT
Generates drawing ideas, with a few dice rolls
Suggest Characters, NPC's, Places, Weapons and even personal object's
It kinda feels like a mini-game, since you don't know what you're going to get
Printable on a letter size paper
Available in digital image
Available in English and Spanish

DESCRIPCION EN ESPAÑOL
DOSTFG Es un prototipo de generador de ideas para dibujar que nació de laspequeñas reuniones de dibujar que tengo con algunos amigos.  
La idea principal es tirar algunos dados para generar ideas rápidas de que dibujar todo referente a tus sesiones de juegos de rol u otros juegos de tablero.
De momento es solo un prototipo, pero es probable que sea mejorado con el tiempo y la retroalimentación que pueda recibir.
ACERCA DE
- Genera ideas para dibujar en una sesión
- Sugiere que dibujes Personajes, NPC, Lugares, armas e incluso objetos personales
- Se siente como una especie de mini-juego, ya que no sabes que te va a tocar. 
- Imprimible en una hoja de tamaño carta
- También disponible en imagen digital
- Disponible en dos idiomas

Download
Click download now to get access to the following files:
DOSFTG_0.25_ESP_Digital.jpg
170 kB
DOSFTG_0.25_ESP_Digital.pdf
325 kB
DOSFTG_0.25_ENG_Digital.jpg
168 kB
DOSFTG_0.25_ENG_Digital.pdf
328 kB